After weeks of pregnancy rumors, Nicole Kidman's publicist has finally confirmed that the actress is pregnant.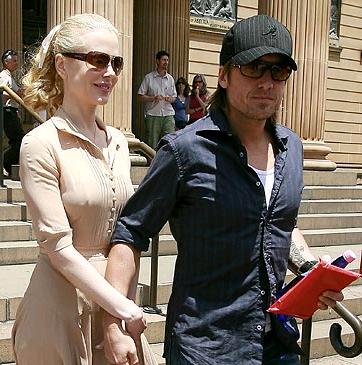 Her publicist confirmed on Monday that the 40-year-old actress is pregnant.
Catherine Olim, the publicist, said in a brief statement, "Nicole Kidman and Keith Urban confirmed today that they are expecting a baby. The couple are thrilled."
Rumors of "Golden Compass" actress' pregnancy have circulated for a few weeks; with reports she told her family over Christmas holidays in Australia that she was expecting.
Wendy Day, the actress' publicist and a close personal friend, revealed that she only learned this morning of the pregnancy, saying, "For years I've seen speculation and for years it's never been right, so I didn't think it was right this time. And then she's just rung this morning. I personally didn't know, so I'm excited today, very excited."
Nicole Kidman was due in early 2008 to start filming the post-World War II drama "The Reader," directed by Stephen Daldry who helmed the "The Hours" which won Kidman best actress Oscar.
She has withdrawn from "The Reader" due to her pregnancy.
Wendy Day added, "I understand she's had to withdraw from the film and therefore she's had to give them the reason, and therefore she's now able to confirm that she's pregnant. I don't know how far pregnant she is, or when the baby's due. She just simply rang me and said, 'Wendy I always told you I would tell you first, and I'd confirm it and you could make the appropriate announcement.' So I guess that statement ends all the rumors and … I guess the poor girl will be hounded by paparazzi and all that."
The baby would be the first for Kidman and Urban. She already has two adopted children with ex-husband Tom Cruise.