Prince William, who spent romantic holiday with his girlfriend, is reportedly keen to get a tattoo.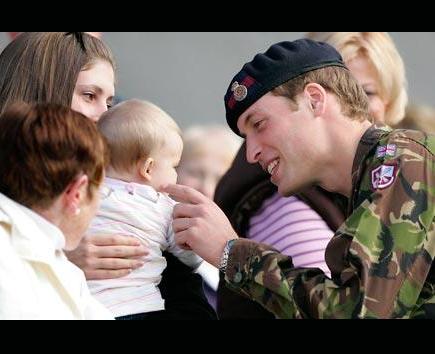 But his girlfriend, Kate Middleton, has apparently deterred the Prince, 26, from going under the needle.
The young prince reportedly told his former navy colleagues that he would like a large design, similar to the angel boasted by the footballer David Beckham, to be tattooed on to his back.
A sailor, who is from HMS Iron Duke, in which Prince William was serving in the Caribbean earlier this month, revealed: "Lots of the guys onboard sport tattoos. It was obvious [Prince] William was fascinated. He asked how painful it was and wanted to know what they thought of his idea for a tattoo across his shoulders."
The sailor added: "We didn't think he was serious – but he said he was keen to get a large tattoo like the one David Beckham has. He said the only thing stopping him was his girlfriend. He was worried she would think it was a bit too chavvy."
Prince William spent two months in Iron Duke searching for drugs pirates. After returning from his summer holiday he is to resume his training at the Ministry of Defence headquarters in Whitehall, before spending time with the SAS the Royal Navy's Special Boat Squadron and the elite Special Reconnaissance Regiment.
Next year the Prince will move into more sedate aspects of his training for kingship, including a stint working at the Foreign Office and being briefed by privy councilors including Sir John Major, the former prime minister.
Comments
comments