American Idol runner-up Adam Lambert and fourth-place finisher Allison Iraheta to answer the trivial (What's your shoe size?), the deep (What's your most painful rejection?) and the newsy (What's up with your albums?) burning questions from the fans.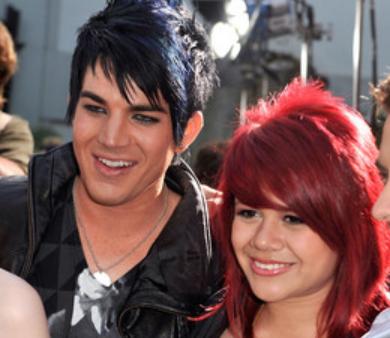 Here are the highlights of the interview:
Adam, I would love to hear more about the soundtrack. When will we find out?
Adam: I still can't say anything. It's definitely happening, but it's not my call to be the one making the announcement. Sorry!
Allison and Adam, are you guys gonna do a duet together like you did on the show? You guys were amazing!
Adam: It would be fun, but we don't know yet. It's too soon.
Allison: Yeah, it's too early to tell. But it's something we'd like to do. Right now we're focusing on our own albums, which is the main goal, and then we can figure that out later. It sounds like a lot of fun.
How are the new albums coming along? What's the latest?
Adam: We're kind of looking at everything and kind of hanging on to as much as we can and choosing from there. If we're feeling a song, we'll record it. If we're not feeling it, we don't. We're going to powerhouse it after the tour is over as far as getting songs recorded and writing some new material. We've made a nice big dent in the process, but I think the majority of it will be done afterward.
Allison: I've been going through material on tour. My favorite person to work with is Kevin Rudolf because his energy is great, and he's just a great guy and has already done so much.
Adam, is your album gonna have songs like "Whole Lotta Love," "Cryin'," "One" and "Born to be Wild"?
Adam: I don't think that's actually really going to happen. I think the record needs to be new material. I do know we recorded some [of the live material from tour] that will be available on iTunes as a special offer.
Adam and Allison, do you bounce ideas off each other for your albums?
Allison: We definitely do bounce ideas off each other. We're showing each other tracks we have like, "Hey I got this new track. What do you think?"
For all the Idols, how do you stay healthy on tour?
Allison: I'm really bad at that. I really don't care. I have thought that maybe I should watch what I eat. But I mean, being on the road and having a bunch of crap food around, it's hard not to eat it. I treat myself. If it's been a long day, I think I might just want to stuff my face with some chocolate or something.
Adam: I think the question is: Am I staying healthy on tour? I'm trying. I avoid a lot of the crap food. I have some vitamins I take. I have this stuff that's green powder that you get at Whole Foods. It's called Super Mineral Vida Green. And I've been, like, trying to take that every day in, like, a smoothie to get my vitamins and greens and nutrients and all that, and that kind of helps me feel better.
Adam, what shoe size do you wear?
Adam: It's like an 11 and a half.
Jane: Allison, what is your favorite Salvadorian food?
Allison: Pupusas, stuffed with different things, are pretty good.
Adam, what is your most painful rejection?
Adam: It was probably in the dating world. Going after people and really feeling like there isn't anything there that's being reciprocated. That hurts. That's happened numerous times.
How do you manage to keep your voice from getting hoarse after such intense performances almost every single night?
Adam: It's definitely a learning experience in trying to learn to pace yourself. I found out that I can't do all the super, superhigh notes every night, or else they won't be there the next night. I'm just trying to learn to pick and choose my moments to really wail.
Allison: I just really hold back on some shows. Having four shows in a row, that's not fun. You want to do your best at the show, but it's really hard when you want to have a good show the next day. So on some days I need to not belt it out as much as I would so I can save my voice for other shows. Some nights I hold back, and other nights I belt it out. Last day of three or four days in a row I belt it out.
Adam, how do you handle the groupies?
Adam: Every night is such a big event. You have tons of people who are super excited and passionate, which feels incredible. But at some point, I can only give so much and have enough energy to go out the next day. It really is draining. I'm not complaining about it at all, but it really is. There's a point where you're like, "Wow, I'm exhausted right now. I just gave a show. I met like 200 people and took pictures with everybody. And now I'm out signing autographs and people are, like, screaming insanely." It feels great, but yeah, it takes a chunk out of you.
Allison, what is it like having young people look up to you as a role model? (You're my American Idol.)
Allison: I never thought there would be little girls saying, "When I'm older, I want to be like you." It's weird, but it's awesome.
Comments
comments