They each represent two of the biggest pop music factories of the decade – the Disney Channel and "American Idol."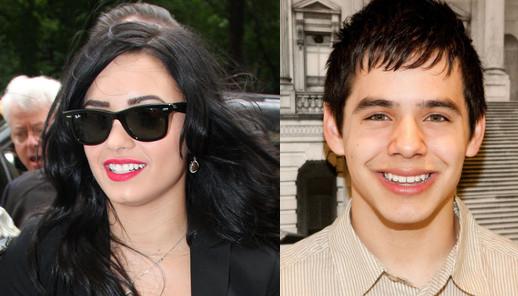 And Demi Lovato and David Archuleta each had most of a crowd of 5,000 – and that "most" meaning preteen and teen girls – in sheer ecstasy Friday night at the i wireless Center in Moline.
Lovato, the star of Disney's sitcom "Sonny With a Chance" and its successful movie "Camp Rock," played about a 70-minute set that included the songs from her first two albums. The second, "Here We Go Again," debuted at No. 1 on Billboard's album charts in all genres two weeks ago.
The singer, who turns 17 next week, prides herself as a songwriter, yet many of the lyrics were hard to fathom during her set.
It's as though the band – including two guitarists, a keyboard player, bass and drummer – and the sound techs were under orders to drown her out as loudly and as often as possible.
Even when Lovato had the chance for an acoustic moment with a ballad, it was later overpowered by the rest of the musicians.
The same held true for her cover version of "(You Make Me Feel Like a) Natural Woman," where some real emotion showed through, but a bomblast from the band ruined it.
To Lovato's credit, she did score many points with her young fans, fulfilling a promise to say happy birthday to one, responding to a message board post from another and inviting two of them on stage to join her in a song from the "Camp Rock" soundtrack.
The invitation was for one, but the teary-eyed 11-year-old had to bring her best friend with her, causing Lovato to give shout-outs to friendship.
She also showed a real moment at the beginning of one of her hits.
"I forgot the words," she said, without any pretense. "Does anybody know the first line of this song?" Another youngster in the front row obliged.
Lovato comes from the same Disney stable as Miley Cyrus, yet there's a contrast between the two. There's no hint of a stripper pole anywhere on stage – which caused controversy during the "Teen Choice Awards" for the "Hannah Montana" star last week – and Lovato had no revealing clothes, aside from slightly torn black leggings, topped with a white vest and yellow T-shirt.
She also showed more of a grownup posture and attitude on stage, without being accused of anything salacious.
Archuleta got almost as many shrieks from the young girls as the headliner. The "American Idol" runnerup from 2008 – whom former judge Paula Abdul famously declared "I want to squish you, squeeze your head off and dangle you from my rear-view mirror" – played harmless pop in his 50-minute set, which also was often drowned out by a backup band.
His stage banter needed some work: It included "Any of you ever struggle with allergies?" after needing a water break.
Unfortunately, Archuleta didn't throw much of a bone to "Idol" fans, concentrating on songs from his debut album, but did perform the original song "Apologize" that he sang on the show.
Impressive in her 15-minute opening set was Jordan Pruitt, an 18-year-old Georgia native who's signed to Disney's Hollywood Records.
She held her own with the backing band and had the stage presence of a young – i.e., pre-tabloid and scandal – Britney Spears or Jessica Simpson.
Comments
comments