Although he's encouraged people to keep speculating about his sexuality, Adam Lambert now says, "all your questions will be answered" in an upcoming issue of Rolling Stone.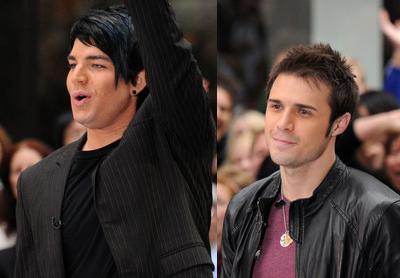 "Finally," he said at the 11th Annual Young Hollywood Awards Sunday in Santa Monica, where he was named artist of the year. "Once and for all" he'll speak directly about the topic.
But the winner of American Idol, Kris Allen, 23, is already speaking out in support of his good friend and runner-up, praising Lambert for his openness.
"I think he's happier that he can be himself and it's nice," Allen says of Lambert, 27, stepping out with his friend Drake LaBry. "Adam is who he is and he's not afraid. I support him in whatever he does."
Allen, back in Los Angeles Sunday to sing the national anthem at game 2 of the Lakers-Magic NBA championship series, says that he has met LaBry, and, "he's a really nice guy."
Allen calls Lambert and LaBry's friendship a "cool combination," because they're so different. "Drake's from Louisiana and Adam is from L.A.," he says. "But they click well and they're really nice together."
Meanwhile, Allen looked relaxed an hour before singing the national anthem, which he executed to perfection, drawing a huge ovation from the Staples Center crowd, which included Rihanna, Diddy, Simon Baker and Leonardo DiCaprio.
Allen's wife Katherine joined him at the game, which the Lakers won, and she has been with him for the past couple of weeks. "[Winning Idol] has completely changed our lives," Allen says. "She is happy to be here and supporting me and she is just as excited as I am."
And the couple have even more good news to share, as Allen has officially inked a record deal with 19 Recordings and Jive Records.
"I'm really looking forward to what is next," Allen said in a statement about the deal. "I'm very grateful to be working with Simon Fuller and his team at 19 Entertainment, along with Barry Weiss and Jive Records on my debut album. Everyone's been asking me what it's going to sound like. It will be very similar to what you heard from me on the show – definitely in the pop/rock genre. I can't wait to get started!"
With his debut album due in the fall, Allen – along with Lambert and the rest of season 8's top 10 – is gearing up for the Idols Live Tour, which opens July 5 in Portland, Ore.
But Allen says his wife won't be following him on the road. "She's going to come to a couple of shows," he says, "but then she is going to go home and hang out with friends and family."
Comments
comments