Brad Pitt stopped the Washington, DC set of Anglina Jolie's thriller Salt (out July 2010) Monday. He wasn't photographed with any of their six kids.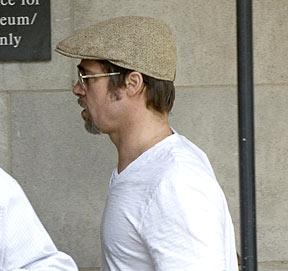 Pitt looked casual in a newsboy cap, sunglasses and white T-shirt.
Jolie is back at work after suffering a minor injury. The actress, who just turned 34, was taken to the hospital late last month after bumping her head on set.
She and Pitt were last spotted together in Cannes in May, where they showed off PDA at the premiere of Pitt's Inglorious Bastards.
"They had lots of fun and looked so in love," according to a witness.
Last Wednesday, Pitt's rep confirmed to Us tabloid reports the couple was about to announce a breakup were "absolutely not true."
Added Jolie's manager to Us: "Not true at all."
Comments
comments