Adam Lambert officially responded this evening to news that Hi Fi Recordings' upcoming disc, On With the Show, will contain eight tracks co-written and recorded by the singer before he achieved fame as American Idol's season 8 runner-up.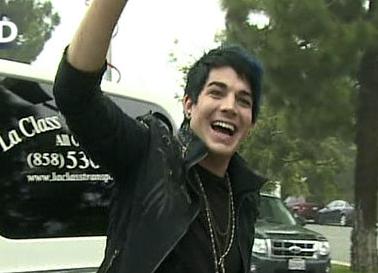 Lambert's statement, released through a rep for 19 Recordings, is as follows:
"Last Friday I was surprised to find out that songs I recorded back in 2005 were being released. Since then I discovered the entire track listing, revealed online today. I was shocked to learn that songwriting demos of songs that I co-wrote and recorded over the past few years may be released in an album. Like a rough draft that a writer does before finishing a book, I did not intend my work on these demos to be heard by the public. I was unaware that anyone intended to release these recordings until I heard about it in the press, and I'm very disappointed by this entire situation."
In other news pertaining to the popular Idol alumnus, a source close to the singer revealed exclusively to EW.com that Lambert recently met with acclaimed producer Linda Perry (Christina Aguilera, Pink, James Blunt); had writing sessions with Idol judge and in-demand songwriter Kara DioGuardi and Grammy nominated Sam Sparro ("Black and Gold"); and hit the studio with One Republic's Ryan Tedder, the white-hot tunesmith behind Leona Lewis' "Bleeding Love," Beyonce's "Halo," and Jordin Sparks' latest single "Battlefield." It was previously reported that Lambert laid down some tracks with Lady Gaga producer RedOne.