Jennifer Aniston was spotted relaxing with a dog on the set of her new movie in Atlantic City today.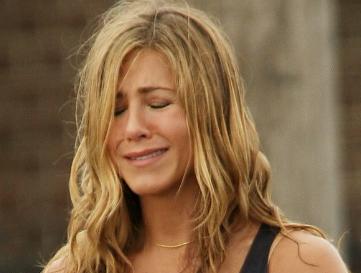 The former Friends star stroked the animal in between shooting scenes for Bounty, in which she plays the ex-wife of a bounty hunter.
Aniston looked relaxed in a figure-hugging black outfit and smiled when she realized she had been captured by photographers.
The actress began work on Bounty as soon as filming wrapped up last month on her other forthcoming movie The Baster.
Both films are due to be released in 2010.
Meanwhile, He may not be the Brad that Jennifer Aniston thought she would spend the rest of her life with, but a source close to the actress tells OK! that Bradley Cooper is just "right" for her.
"They're both sticking their toes in the water," the source says of Jen and Bradley, who got the rumor mill churning after they stepped out together for a late-night meal last week at romantic NYC eatery Il Cantinori, where Jen has been dining since her days on Friends.
"That's all it is at this point — though he's so right for her, in my opinion, that I hope it turns into more," adds the pal. "They certainly have a chemistry."
The couple originally met doing a fundraiser at the Beverly Hills Hotel when Bradley was still married to actress Jennifer Esposito (they divorced after four months of marriage in early 2007).
But after being burned by highly publicized breakups in the past, Jen is taking it slow with her new man.
"She's moving at a snail's pace about all this," the source says. "It's not a romance yet, but they are interested in each other."
Comments
comments