Who is behind the make up? It's Mom, of course. Fearlessly fashionable American Idol contestant Adam Lambert has never been shy about his wild side. "I have nothing to hide," he has said. But the surprises haven't stopped since the American Idol contestant, 27, unveiled his one of a kind style on the hit show last January, according to a report.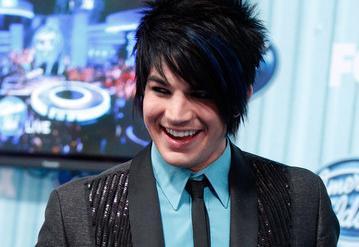 "He's always been a star, unique to the core," former boss Chris Isaacson, of L.A.'s Upright Cabaret said. "Viewer's are only seeing the tip of the iceberg." They note his strong connection with mom, playfully dubbing him a Mama's Boy. Good timing for a Mother's Day nod to Adam's mom Leila.
"His mom is the most supportive woman," Upright Cabaret's Chris said of Leila Lambert. "She's allowed him to flourish and be the person he was meant to be. His parents didn't force him into sports, but let him follow this creative desire to dress in costumes and sing his heart out."
Other moms love him as well and Adam's performances have stunned his legion of fans, including Kelly Rippa and Elisabeth Hasselbeck. "His stage presence is phenomenal," according to "The View" host. Despite Adam's shocking slip to the bottom two on April 29, the season-eight frontrunner's songs have been downloaded more frequently than his competitors' on iTunes.