"American Idol" runner-up Adam Lambert is anything but subtle.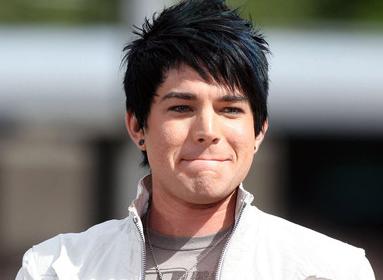 When the 27-year-old singer made his "Idol" debut, audiences couldn't help but notice Lambert's spiky mop of devilishly disheveled hair, his dark guyliner and darker fingernail polish. But Lambert wasn't about to tone himself down just to appeal to more people. And because of that, he never thought he'd get too far on the show.
"I remember getting into the competition and feeling like, 'Oh, I hope I crack the top 10,' " he said. "I never thought I would get that far in 'American Idol,' considering that I'm a little bit more alternative."
Now, he's working on a solo album and performing in the American Idols Live tour, which comes to 1st Mariner Arena Wednesday.
In his first "Idol" audition, when Lambert sang snippets of "Rock With You" and "Bohemian Rhapsody," the acid-tongued judge Simon Cowell called him "theatrical and therefore not current."
Cowell was right on one count – Lambert does indeed have a background in theater. He spent his early years on stage, performing in musicals such as "The Ten Commandments: The Musical" and " Wicked." Some of the skills he picked up there carried over to "Idol," he said.
"I learned a lot in theater as far as how to please a crowd and create a 'number,' " Lambert said. "I tried to do that each week with 'Idol,' from what I was wearing to how I used the stage to lighting things and sound things I used along the way. I just wanted to create a mood and theater definitely gave me that knowledge."
As for "not current"? Well, the American public proved that wrong when they voted him to the No. 2 spot. That's despite the fact that Lambert made no attempts to hide his sexuality. Though he officially came out on the cover of Rolling Stone, Lambert never denied being gay. Though photos of Lambert making out with another man surfaced during the "Idol" season, they seemed to have no negative impact on Lambert's rise.
"I'm surprised that people looked past a lot of the other stuff," he said. "Maybe I suspended their disbelief and allowed them to be entertained. I think that's what music should be."
On the American Idols Live tour, Lambert opens his set with Led Zeppelin's "Whole Lotta Love," then segues into "Starlight" by Muse and "Mad World" by Tears for Fears. Audiences can also expect "Slow Ride" by Foghat and a medley of songs by David Bowie – an artist Lambert looks up to.
"Bowie's a great example of somebody that brought out visual theatrics to help him tell his story," he said.
When Lambert gets a day off between cities, he works on his forthcoming solo album, he said. He's booked a couple recording sessions along the tour, which continues through mid-September. After it ends, he's going to devote all his time to finishing the album. So far, he's pleased with how it's coming together. Lambert said he has even co-written some lyrics on a handful of songs.
"I'm excited that I have some creative control and input as to what is going to be in the album," he said. "Contrary to popular belief, they do not puppet us around after 'Idol.' They're giving me a lot of creative control."
As for the songs?
"They're sexy," he said. "There's a lot of sexy songs – songs that are fun to dance to. There's a lot of anthems and stuff you can sing along to. It pretty much just kicks ass."
Though it doesn't yet have a title, the album is slated for a November release. And Lambert isn't hiding his enthusiasm. That wouldn't be his style.
"We're really, really, really excited."
Comments
comments