Michael Jackson has plenty of siblings who depended on him financially, but it's brother Jermaine who seems to be doing the most to profit from him after his death.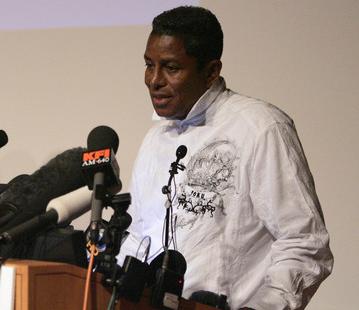 Not only has Jermaine struck a deal to release a recording of "Smile," the song he performed at Michael Jackson's July 7 public memorial, but now there's a series of tribute concerts he's planning. Jermaine made the announcement during a taped interview with Larry King, which airs Aug. 7, according to multiple sources who had access to the interview.
Story continues below ↓advertisement | your ad here
What's interesting about the announcement is right up until the interview, Jermaine was making calls to artists who were involved with the "This Is It Tour," telling them the tribute concerts would be part of the World Music Awards. Not only is this not true, but the World Music Awards turned down a Jackson family appearance at the show, which will be taped in late October in Monaco, according to a person with direct knowledge of the Jacksons' proposal.
"Two different people, each claiming to be representatives of the entire family called to ask if there was interest," said the source. "Let's say there was interest: First of all, no one represents the entire family, so that wasn't right. Then, you can't get past the issue of their travel needs. They said the entire family would have to travel from California to Monaco via chartered jet. And that's just not going to happen."
What will take place at the World Music Awards? Janet Jackson (who, it should be noted, is not to be lumped into Jermaine's category — she's been an example of pitch-perfect respect toward Michael and the situation as a whole) will not perform, but organizers expect she will accept an award on behalf of Michael, who was due to receive the award prior to his death. Also, Prince is in talks to do a tribute performance to Michael Jackson.
Comments
comments