"American Idol" runner-up Adam Lambert has been spotted holding hands with his rumored boyfriend, Drake LaBry, during a night outing in West Hollywood on Monday, June 1.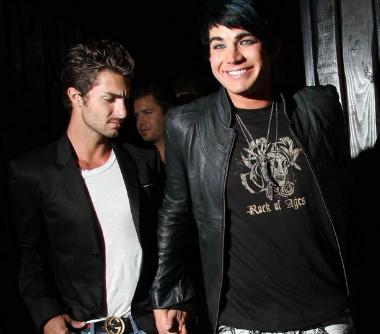 Letting the many speculations of his sexuality continue, Adam Lambert has been photographed stepping out with his alleged boyfriend in West Hollywood on Monday, June 1, holding hands, only to add fuel to the rumors that he indeed is gay. The man, who is widely believed to be his same-sex partner, was identified as interior designer Drake LaBry.
Both of them arrived together at West Hollywood hot spot Guys & Dolls, where they were said to be acting very affectionate toward each other. "They were dancing very closely together, very flirtatious inside," a source in the know told US Weekly. "They were sipping Grey Goose."
The source claimed to have also spotted Ryan Phillippe and girlfriend Abbie Cornish at the venue. "It was cute to see two couples — one gay and one straight — acting the same and nobody caring!" said the source. Adam and Drake were snapped leaving Guys & Dolls a little after 2 A.M. Some photos of the twosome's togetherness can be seen on Celebrity Mania.
Earlier that day, Adam and Drake were also spotted putting a united front around town. The rumored gay lovers went shopping at Kitson Men, where the singer reportedly bought Drake a Marc Jacobs blazer said to be worth $358. "They were having fun shopping," an eyewitness testified.
While Adam Lambert has yet verbally confirmed that Drake LaBry is his lover, Drake himself is reported to have been a frequent visitor to the "American Idol" set and was often seen sitting with Adam's family during the live shows. Meanwhile, rumors on the street say Adam will confirm if he is gay or not in the next issue of Rolling Stone magazine, the issue of which has not yet been confirmed by either the "Idol" runner-up or the publication.
UPDATE: Adam Lambert was spotted shopping with friend Drake at Kitson Men in Los Angeles.
Kitson staff said that Adam and friend were "cordial and nice" as they shopped. Lambert is said to have purchased a Marc Jacobs blazer for Drake.
Comments
comments