Adam Lambert who was heavily favored to win American Idol – has found love!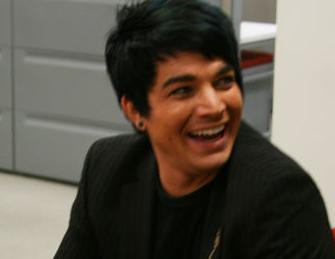 Adam is making beautiful music with 24-year-old artist and interior designer Drake LaBry, say sources.
TV viewers and the entire entertainment world were stunned when the super-talented 27-year-old singer was recently beaten by Arkansas native Kris Allen, 23, in the Idol finals – but Adam couldn't be happier.
"He wants to settle down with Drake," a show insider told The ENQUIRER.
"Adam figures that if he had taken the top spot, it ultimately would have jeopardized his relationship with Drake."
The San Diego singing sensation was introduced to Louisiana native Drake months ago by mutual friends, divulged the source. "And they immediately fell in love. Adam was just not ready to come out publicly because he likes to keep his fans guessing about his sexual preference.
"But behind the scenes, Adam is totally open. He just never wants to fall into any stereotype because of his career."
Happily, Adam's family "have embraced Drake wholeheartedly," revealed the source. "He sat alongside Adam's parents at many of the tapings.
"Adam's absolutely crazy about Drake," the source said. "He wanted to keep their relationship as quiet as possible until the contest was over. Coming out publicly under that kind of scrutiny would have been crazy."
After Kris was voted champion, some in the gay community felt the outcome was a slap at Adam because of his apparent homosexuality.
"But Adam doesn't feel that way and neither does Drake," the source disclosed.
Drake – who studied interior design at Louisiana State University – "is just the kind of artsy guy who Adam would be attracted to," added the source. "He's not only into interior design, but he paints, as well."
Comments
comments