There are some never-before-seen photos of Rihanna and Chris Brown snuggling up when they were a couple.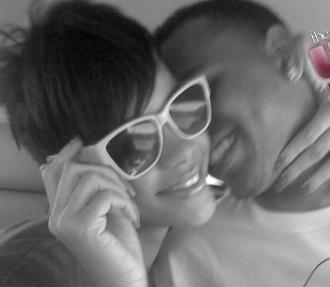 As for her being single, Rihanna isn't dating anyone — she's 100% single, sources close to the singer have said.
The star — who recently split from boyfriend Chris Brown – has been romantically linked to rapper Kanye West and former child actor-turned-rapper Aubrey "Drake" Graham.
But those close to the Umbrella hitmaker insist the 21-year-old star is flying solo.
"Kanye is all over Rihanna's album — not all over Rihanna!" an insider told the New York Daily News newspaper. "She's feeling him [Graham] but wants to take things slow. Right now they're just chilling."
Meanwhile, the sexy songstress is said to be taking acting lessons while in New York.
"Rihanna will start filming Personal Protection later this year," says an insider. "She's not ready, acting-wise, yet, so she's meeting with a coach."
Comments
comments