Adam Lambert and Kris Allen are more than just good friends — they make sweet, sweet music together, too.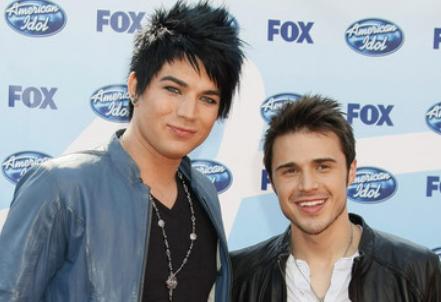 The American Idol winner has revealed how Lambert has been helping him out when it comes to writing songs.
"Adam will get a song, and he'll be like, 'Listen to this,' and I'll tell him what I think about it, whether I like it or not. And we were actually doing that last night. … He was listening to some things of mine," Allen told MTV News. "He had some good things to say, some critiques to say as well. We do that to each other. … We're just trying to help each other out."
Cutie Kris admits he's struggled while balancing writing and recording with all the duties that come with his new-found fame.
"The time thing is crazy. When you dream of making your first album, you don't dream of making it on tour. … It's nuts, but we're finding the time to write, and writing is putting my stamp on [my album], so it's happening," he said. "To be honest, at first it was hard, because they stuck me in these co-writing sessions, and I was like, 'I've never done this before.' It was weird. I'd get in there, and I'd be like 'I don't know what to do. … I'm sorry.'
"But I've gotten used to it, and it's good to bounce ideas off each other, and so I've been writing a lot with other people, and writing some stuff on my own too."