Before Adam Lambert hopped into the stretch limousine that would take him all over his hometown of San Diego, the American Idol contestant was asked if he was ready for what the day had in store.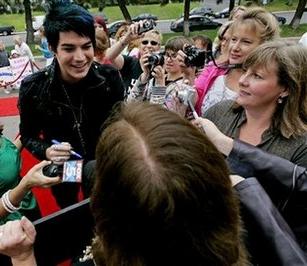 "I don't know if I am," he replied with a look of trepidation.
If Lambert, 27, wasn't ready for the utter fan-demonium that lay ahead Friday, he handled it like a pro, from his 7 a.m. impromptu attempt to read San Diego's Fox 5 News viewers their weather and traffic reports on a green screen, to holding up his limo's departure from the Marine Corps Air Station in Miramar, to comfort a crying little girl who wanted to meet Lambert.
"I feel so much support and love," he told PEOPLE at the end of the day. From the 7,000 screaming fans who turned up at Mount Carmel High School to the fans who pounded on the windows at the studio of his local radio station, 94.1, where he was interviewed by the station's popular Jeff and Jer, Lambert got plenty of support — even from those who didn't receive it (even literally) from him earlier in his life.
Alison Bretches, now the artistic director at the Metropolitan Educational Theater Network in Poway, Calif., recalled performing with Lambert when they were both kids. "I remember (doing) The Wiz. He was the scarecrow, and I remember him dropping me on my head," she laughed. "We were doing a partnering cartwheel and he dropped me on my head!"
Bygones are bygones, and San Diego's community was so thrilled to have Lambert return to his hometown that the city's mayor declared May 8 Adam Lambert Day. (Frenzied crowds also greeted Idol finalists Kris Allen in his hometown of Little Rock, Ark., and Danny Gokey in Milwaukee.)
Lambert's reaction? "I didn't expect all this," he explains. "We live in this little TV studio. I didn't realize it was so far-reaching. I guess one of the things I didn't realize is how people were so excited about me being who I am."
While Lambert says he got choked up many times throughout the day, his mother Leila wasn't able to hold back tears once they arrived at his high school. "I'm happy for him," she said. "Everything he's done. All the times I've been proud of him have built up to this. I'm so proud of him."
Comments
comments