Lawyers at Rihanna's label have reportedly sent at least one letter to a Web site, which posted photos believed to be of the pop singer on Friday.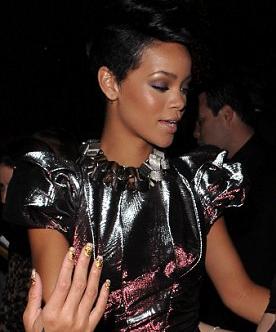 According to TMZ, lawyers at Island Def Jam Music Group, sent a letter which references "unauthorized photos purported to be… Rihanna."
The letter reportedly demands the removal of the pictures and claims they are in violation of "the Artist's rights," The Huffington Post also reported.
On Friday, seven photos appeared on ImageHaven.net. Two of the photos appeared to be of Rihanna's face, while four of the pictures featured various body shots of a semi-nude woman, which many including Perez Hilton, suspect is Rihanna. The woman's face is not visible in the nude photos.
The final photo features what appears to be a semi-clothed Rihanna in black underwear or bathing suit bottoms and a white hotel-style robe. The woman is pictured taking a photo of herself in the mirror via Blackberry.
The mirror has the words "I love you" and "I miss you," written on it in white lettering and it is signed, "Robyn," Rihanna's real name.
The same seven photos and an eighth, with a shirtless man who looks like Chris Brown, with what appears to be a pair of pink panties on his head, was also posted online on iHipHop site. It appears to feature the same two oblong mirrors pictured in some of the other photographs.
In related news, after several months out of the spotlight, Rihanna stepped on to the red carpet earlier this week – the first time since Clive Davis' pre-Grammy party in February. Rihanna did not attend the Grammys after she was allegedly beaten by then-boyfriend Chris Brown, hours before the ceremony.
Rihanna appeared in a couture tuxedo at the Metropolitan Museum of Art's Costume Institute Gala on Monday evening in New York City.
And on Thursday, Rihanna stepped out again for a DKMS bone marrow donation event, also in NYC.
Comments
comments