Jamie Lynn Spears who was spotted with baby daughter Maddie Briann as she ventured out in public for the first time following allegations her fiancé had cheated on her.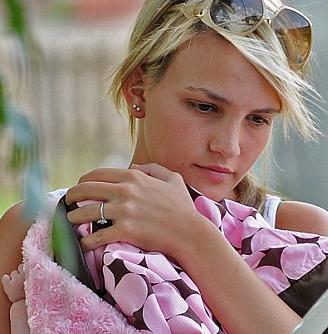 The "Zoey 101" star was dressed for the hot weather in a denim mini skirt and white vest. She looked miserable as she joined mother Lynne and baby Maddie to buy a new mobile phone in a store in her hometown of Kentwood.
The 17-year-old actress's relationship was been rocked by claims that Casey Aldridge, 19, had been having an affair with Kelli Dawson, 28.
Although her engagement ring was still very prominent, the teen star looked cagey as she cradled the two-month tot after purchasing a new mobile phone.
His former girlfriend Kelli Dawson rocked the Spears family this week after telling tabloids she enjoyed an affair with the 19-year-old while Jamie Lynn was six months pregnant.
And her story was supported by Jamie Lynn's sister Britney's first husband Jason Alexander, who revealed that the fling was common knowledge in their hometown.
Casey Aldridge, who is due to wed Jamie Lynn later this year, has denied the allegations.
After the revelations last week, the "Zoey 101" star and her two-month-old daughter Maddie Briann have fled the couple's home in Mississippi to stay with her mother Lynne 30 miles away in Louisiana.
The celebrity couple, which has been dating for two years, is believed to wed later this year, but their marriage plans have been thrown into jeopardy following the recent reports.
Kelli Dawson revealed that she had been dating Casey since November 2006 and had still been seeing him when Jamie Lynn was six months pregnant with Maddie – the same month he proposed.
Comments
comments