Reality TV personality Kim Kardashian was rushed to the hospital after injuring her foot from a broken mirror in her hotel room on Sunday.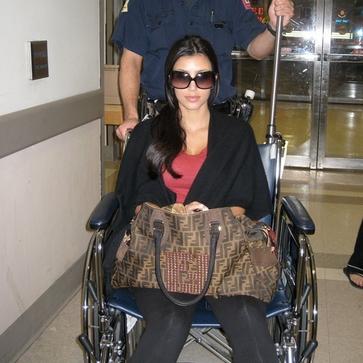 The "Keeping Up with the Kardashians" star received stitches at the Presbyterian Hospital in New York after slicing her foot open with a broken mirror.
The socialite was in the city to promote her new flick "Disaster Movie."
The 27-year-old reality star, which is included in the new line-up of the celebrities vying for title of the new season of "Dancing with the Stars," premiering on September 22. After the contestant roster was revealed in "Good Morning America," the socialite assured that her injury would not keep her from her new commitment.
She wrote on her blog: "Some press outlets are reporting that I was injured, so I thought I should let you guys know that I am totally okay and this WILL NOT affect my ability to compete in Dancing With The Stars! I did cut my foot last night in New York City."
How did she have the injury? She explained: "I was checking emails in my hotel room and placed my computer on a mirrored desk. There were parts of the glass mirror that were cracked, and when I finished up my work and got up, my foot rubbed against it and it sliced it open."
She added: "I was rushed by an ambulance to an emergency room nearby and had it checked out! I did not end up getting stitches because it will actually slow the healing process down—and I need to do whatever is safest but fastest healing wise. So, my doctor just "dermabonded" it—basically surgically gluing it back together and keeping it bandaged up!"
Comments
comments