Brad Pitt has landed a new job — a photographer. Several Hollywood sources dished that the actor shot Angelina Jolie and their brood at the Chateau Miraval in the South of France last week for W's November issue.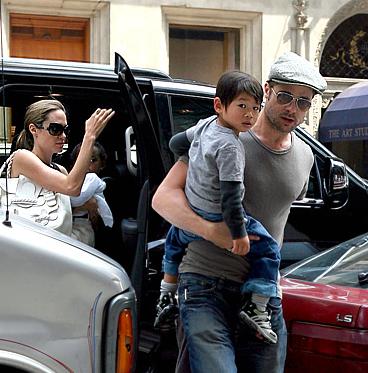 It is Brad Pitt's first time shooting a cover. He previously collaborated with pal Steven Klein to create a photo portfolio that showed him and Angelina Jolie as a 1960's-style married couple in W's July 2005 issue.
Jennifer Aniston said the photos —a concept of Brad Pitt's — hurt her because it came out just months after their split.
The "Break-up" actress revealed: "There's a sensitivity chip that's missing. I just don't know what happened. … I feel as if I'm trying to scrounge around and pick up the pieces in the midst of this media circus."
Brad Pitt is passionate about photography. He appeared on the March 2007 cover of Interview with a camera. Angelina Jolie also reportedly gave him a Littman 45 single camera for his birthday.