Britney Spears, who recently lost her driving with kids' privileges, was seen leaving the Four Seasons Hotel in her new two door white Mercedes SL65.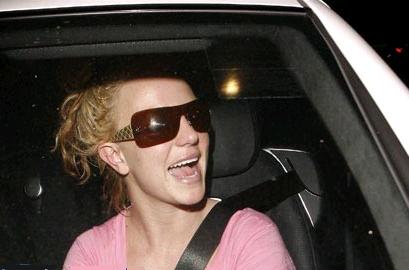 The troubled pop singer, together with 'manager' Sam Lufti on November 16, the days she was either advised or ordered by the court not to drive with her kids. During that time, she looked a mess with sweaty armpits, unkempt hair and nails.
At one point of time the troubled and confused pop star raised her sweatshirt to shield herself from the cameras. It certainly wasn't her nipple, which was visible through the sheer blouse that she wore sans a bra.
She was also spotted on the day that courtesy of the courts she lost the ability to drive with her children arrives at a local gas station in her white Mercedes with her boyfriend Sam. She then tries to hide underneath a sweatshirt exposing her sweaty armpits and also showing that she had decided to not wear a bra.
Comments
comments