After surviving the photo scandal, Vanessa Hudgens is back. The scandal basically drove the star underground and she was no where to be found. She even canceled what would have been a blockbuster appearance on Jay Leno.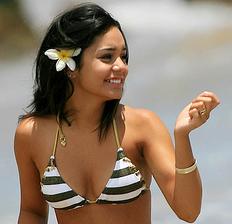 Now the Disney's High School Musical" star is back and she is out in the public eye though she did not make any comment on her wild photos that are still circulating around the web. She looks sexy and is smiling and hopefully all is well and she can use the white hot coverage to boost her career.
She has been out at the Us Weekly party and even hit Las Vegas over the weekend. She played with the cameras and put on her best playful and sexy poses at a personal appearance at the 2007 International Vision Expo in Sin City over the weekend. She then made her way back to Los Angeles for a charity event.