Many people think that the latest meltdown of Britney Spears may cost the troubled pop singer her children.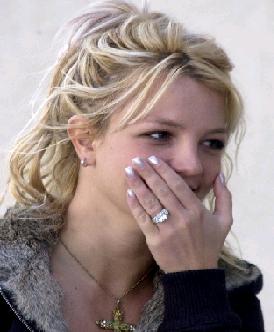 This week, she has flashed her breast to the paparazzi while driving around town on a flat tire, which you could see here. Then she topped that off with a crazy trip to Mexico with her paparazzi beau.
Many are warning the singer that they believe the paprazzi beau is dangerous and reports claim that he has sold what are being called "semi-nude" photographs of the singer that he supposedly snapped while they were together. Another report indicates that the paparazzi beau sold pictures for a price that is a little more than £25,000 from an Australian magazine.
A disgusted friend of the singer said, "Britney has been slipping off to hotels and spending the night with this guy for a couple of weeks now. It started on December 23 when they spent the night together at the Peninsula in Beverly Hills. He's a creepy guy. He always said he would one day get Britney Spears in the sack, and I guess he finally has. She's giddy when she's around him. But I think he's out to use her."
Now the "Gimme More" singer is due in court on Monday and reports are that her family is trying desperately to have her committed to get her help for what is being called a bi-polar disorder. She is reportedly tying to dodge the family and stay on the run so that she won't be caught and placed in the hospital again.
As for the other news, a friend of troubled pop singer fears that Britney will kill herself. It was last Tuesday evening and Britney Spears was talking to a close friend as she cruised down Sunset Boulevard in her black sports car, followed by the swarm of paparazzi that pursues her everywhere she goes.
She shouted into her mobile phone, "They're not sending me to the nut house. No one can make me go if I don't want to go, and I ain't goin'."
As the friend tried to reason with the star, her words – and her driving – became increasingly erratic.
Britney shrieked, "See that? I just went through another stop sign. See what you made me do? I'm gonna hurt someone out here! I'll kill myself before I let them lock me up again. So tell Mama and Daddy I said so!"
Meanwhile, another relative revealed, "People assume that she's been on illegal drugs and, of course, she has been in the past. But most of that stopped months ago when the court ordered frequent drug tests in the child custody case between her and Kevin (Federline). The only drugs she's on right now are certain prescription medications she's taking for extreme anxiety and ADD (Attention Deficit Disorder), and that includes Adderall, which is a powerful amphetamine."
The family member of Britney added, "Actually, I think the Adderall is ruining her. It makes her manic. But that's the least of her problems. What no one in the family wants to admit is that she's probably bi-polar" – a form of manic depression that leads to wild mood swings."
Comments
comments