With fiancé Cash Warren by her side, Jessica Alba can't help gushing about her impending baby joy.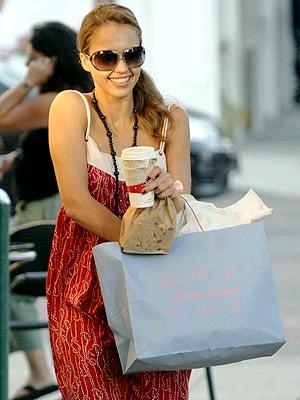 The 26-year-old actress revealed on Thursday in L.A. at "Glamour" magazine's kickoff for V-Day's 10th Anniversary, "It's awesome "It's the best time ever. I have two movies coming out, a baby, a fiancé – everything."
The "Fantastic Four" actress, whose due in late spring or early summer said the pregnancy, has been smooth so far. But, she admitted, "I'm more tired, more hungry than normal."
The actress also said she's enjoying a rare break from acting, joking, "I don't know if anyone wants me in their movies [when I'm] six months pregnant. I'll get the fire and I'll want to work again, but right now it's a time to relax and sit back."
For now, the actress is focused on a more personal project, saying, "I bought a new house a couple weeks ago. I'm in nesting phase."
The actress joked about her growing baby bump, adding, "I hope [my dress] won't pop while I'm up here," she said. "And if it does, you're all women, and I think you'll understand it. [When you're pregnant], your breasts are engorged and your stomach is getting bigger. . . . And the as*, too, that's getting bigger by the second!"
Jessica Alba is glowing at V-Day as she wore a pink abstract print surplice dress with banded waist and a handkerchief hem flared skirt. Her baby pink full sleeve cardigan with satin edging, drop pearl and diamond earrings and light makeup complimented her glowing skin. Her hair tied in a chignon with the bangs covering her forehead added to the softness of her face Her choice of matching light pink peep toe pumps with a bow at the back is also good.
V-Day celebrated its 10th anniversary Thursday at a star-studded private luncheon sponsored by Glamour magazine.
Comments
comments