Angelina Jolie was sporting a helmet and flak jacket as she visited Iraq as part of her role as a UN goodwill ambassador.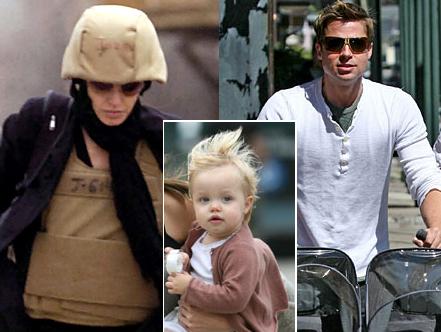 The 32-year-old actress accompanied the U.S State Department on the trip to learn about the plight of 4 million displaced Iraqis.
During her trip, the UN Goodwill Ambassador dined with U.S troops stationed within the Green Zone, met General David Petraeus, the top U.S commander in the country, Iraqi Prime Minister Nouri al-Maliki and Iraqi migration officials.
The visit comes amid reports that the "Mr. & Mrs. Smith couple" have increased security at their LA home after daughter Shiloh was targeted by kidnappers, it was claimed today.
Her partner Brad Pitt remains on dad duty in LA, where he was spotted yesterday with the couple's adopted daughter Zahara in tow.
Speaking of Brad, the "Babel" actor has slammed a U.S. publication for publishing a "dangerous" story about a bogus death threat he and partner Angelina Jolie have received.
The angry Hollywood actor has called the report, which suggested his daughter Shiloh has become the target of a sick pest, "reckless".
In an article running in the current issue of weekly publication, reporters claim that the celebrity couple has increased security after discovering a chilling note targeting their biological daughter.
Sources claimed, "Someone got to their doorstep and left a threat against Shiloh."
But Brad Pitt insisted the story is completely made up, saying, "This is absolutely not true and reckless and dangerous to put these ideas out into the world."
Comments
comments