Victoria Beckham made a surprise appearance at Fashion Week's Project Runway finale.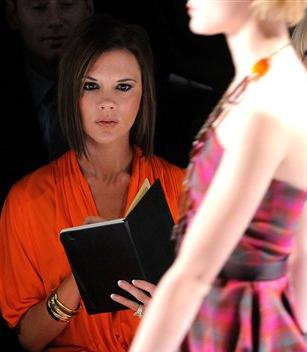 Posh Spice, who couldn't be missed in an orange ensemble, walked down the runway alongside host Heidi Klum and judges Micheal Kors and Nina Garcia before the designers presented their collections.
For a Spice Girl member, there was a clear winner at the "Project Runaway" show Friday at New York Fashion Week. But she wasn't telling who. Beckham is a guest judge for the two-part finale, which airs Feb. 27 and March 5.
She revealed, "That one person really made me smile. Everything I saw, I would wear myself."
Five remaining contestants presented collections Friday to a celebrity-studded audience at the Bryant Park tents so there won't give away any clues which designers will make it to the finals.
Posh wasn't the only celebrity in the house. Other celebrities who showed up in the event: Meryl Streep and her daughter Mamie Gummer, Make Me A Supermodel's Tyson Beckford and Niki Taylor, Lipstick Jungle's Lindsay Price, Runway's Laura Bennett, Queer Eye's Ted Allen, How Do I Look's Finola Hughes and the cast of Bravo's upcoming series "The Real Housewives of New York City" were all on hand.
Comments
comments