Alessandra Ambrosio posed for Rolling Stone as she graced the magazine cover for its Feb 2008 issue.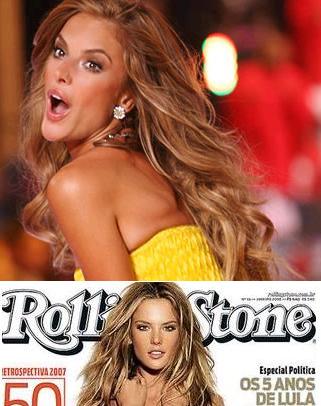 The Brazillian model, who is part of the new Brazilian invasion of the supermodel that Gisele Bundchen triggered, also posed topless and bikini photos for the magazine, which you could see here.
At only 19, Alessandra is already half a decade removed from the quiet serene village in which she was born.
The "Victoria's Secret" model Alessandra Ambrosio is reportedly regnant. She is expecting her first child with boyfriend Jamie Mazur, according to Brazilian newspaper Terra Brazil.
Rolling Stone has something to say about her: "It is extremely rare that a model makes the cover of rolling stone magazine. Gisele was the last to do it. At that time only 4 super models made rolling stone cover."