Alyssa Milano is engaged to her boyfriend, David Bugliari, her representative has officially confirmed.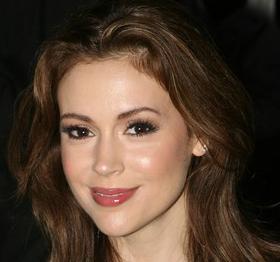 The pair, who has been dating for more than a year, got engaged on December 18, 2008. A wedding date has not been announced.
David, who is an agent at the Creative Arts Agency, reportedly proposed to the actress with a ring he designed that was made by Jim Lavi at Daniel Jewelry in La Jolla. No further details have been released at the time of writing.
Alyssa Milano, 36, was previously married to Cinjun Tate, the lead singer of band Remy Zero. Following her divorce with Cinjun in November 1999, after less than a year of marriage, she dated singer-actor Justin Timberlake and also Limp Bizkit lead singer Fred Durst among others.
As for her acting career, Alyssa has most recently been seen starring as Billie Cunningham in NBC's comedy "My Name Is Earl."
She revealed in 2007 of her penchant for romancing Major League pitchers (including Carl Pavano, Barry Zito and Brad Penny), saying: "I've gotten such s— about my dating choices. Like, every single article … is about how I'm 'the chick that dates athletes…"
She added: "I'd love to just find a good plumber or doctor."
Comments
comments