Amber Lee Ettinger, who was first known as Obama's Girl, is back with a Super Bowl weekend splash and she is showing a lot more skin.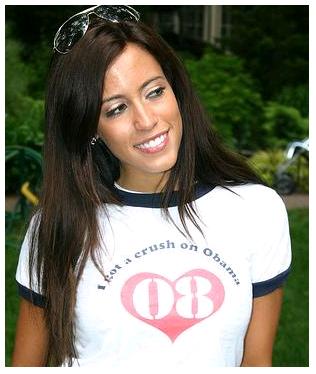 The buxom brunette, who was known as the girl that has a crush on Barack Obama, has a new Maxim photo shoot and also has a new video out and again she is supporting Barack Obama. You could see her photos here and here as well as her video here.
According to Maxim, the 25-year-old brunette beauty with a height of 5'5" is the former Hometown Hotties contender that grabbed the national spotlight last week after lusciously lip-synching her affections for Democratic presidential hopeful Barack Obama on YouTube. The nation may be divided on border control and foreign policy, but we think we may have found a uniter.
Another report also indicated that busy Amber Lee will be working Super Bowl weekend as well. HCD Research announced that Obama's Girl will introduce the winning ads of Super Bowl XLII on the company's mediacurves.com web site on Monday morning after the game.
Similar to last year's testing, the company will elicit the help of a panel of experts and more than 2,000 consumers to determine the top ads of this year's Super Bowl broadcast the night of the game.
BarelyPolitical.com has also released its newest Obama Girl video. Barack Obama's biggest fan is back and is taking on all political enemies as Super Obama Girl. Amber Lee Ettinger grabbed the national spotlight last summer after she lusciously lip-synched her affections for 2008 Democratic Presidential hopeful Barack Obama on YouTube.
How long can she ride the popularity of Obama? One can guess she is hoping that he will make it all the way to the White House so she can have a gig for the next four years as well.
Comments
comments