The Jonas Brothers didn't need American idol to boost them to their superstar status, but the do have a big fan in the winner of season five of the reality TV show.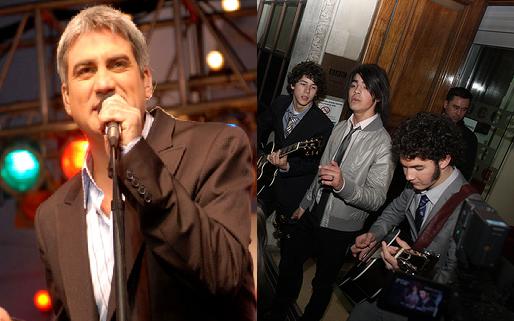 Taylor Hicks may look like he is too old to be a fan with his thick gray hair but he was right here in New York City to greet the teen stars with screaming and crying little teen girls right by his side.
The whole very strange scene was caught in photos by INF Daily and they show a squinty eyed Taylor Hicks with his mouth wide open waiting for the arrival of the teen sensations. It seems odd but it does get Taylor Hicks some much-needed publicity. He is holding a sign that says "The Jonas Brothers Rock My World".
The agency has the pictures published and has this brief report. "Check out the crowd of wild fans who are eagerly waiting the arrival of the Jonas Brothers!!! Among the girls is Taylor Hicks, I'm not quite sure why he's there but he seems excited too."
The reporter on the scene notes that "Clearly the stand out from the group is the one girl who's crying; she's so overwhelmed and she hasn't even seen them yet! Stay tuned for the pandemonium that ensues once the boys come out to greet the fans!
Comments
comments