Kris Allen did a rendition of Kanye West's "Heartless", Adam Lambert sang a U2 and Danny Gokey performed an acoustic Joe Cocker in "American Idol" season 8 semi-final.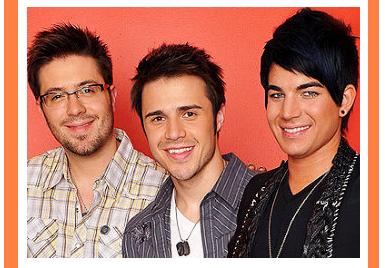 "American Idol" season 8 has reached a critical stage where three remaining contestants, all men, are vying for a slot in the final run. Adam Lambert, Danny Gokey and Kris Allen performed on the stage on Tuesday, May 12, with a song which is selected by the judges and a song that they feel comfortable with. Here is the recap.
First on the stage was Danny Gokey with Paula Abdul's choice, Terence Trent D'arby's "Dance Little Sister". Randy Jackson actually liked it but Kara DioGuardi despised the part where he danced with the saxophone solo. She said she would not remember the performance tomorrow. Paula loved the whole thing, the dancing and the singing. Simon Cowell called the dancing "desperate" and the song choice bad. Paula and Simon later on argued and she punched him. Danny defended the song choice, saying "I want to sing that song!".
Kara and Randy picked "Apologize" by OneRepublic for Kris Allen. Like its original artist, Kris sat behind the piano for the piece. Randy was absolutely liking the performance, emphasizing that this could be the future genre for Kris. Kara said it was not exactly a home run and wanted him to take more chances. Simon then criticized Kara, "…You can't choose a song for him then blame him for doing the song. You didn't hold up to your responsibility." She yelled back, "You're gonna tell me about interpreting songs? Have you ever interpreted a song in your life?" and held her hand over his mouth.
Next, Adam Lambert tackled a song chosen by Simon, "One" by U2. Randy was not 100% impressed to the point where Adam went off the original so much but still liked the performance. Kara said, "You're a strategist you proved you can take a song, change it up and make it unbelievable." Simon, making a joke, said that it was a brilliant song choice and said, "You worked out what you wanted to do with it, a brilliant brilliant performance, if you aren't in the finals it will be one of the biggest upsets."
Filler of the night is Idol Gives Back that visited Angola, Africa. Alumna Carrie Underwood showed viewers their effort in fighting Malaria in the undeveloped country.
The second round began with Danny's personal choice which was Joe Cocker's "You Are So Beautiful" backed up by an acoustic guitar and a string quartet. Randy loved the performance, while Kara called it "stunning". Simon summed it up with, "I would call that a vocal master class."
In an interesting twist, Kris sang a contemporary song that is a left turn to his usual genre. He picked Kanye West's "Heartless" and topped it off with guitar. Randy loved it to the point where he said that it was better than the original. Kara deemed his interpretation of the R&B song, "bold, brave and fearless." Simon meanwhile gushed, "I had written you out of the competition. That all changed with that performance."
Adam chose "Cryin'" by Aerosmith. Randy said, "You are one of the best we've ever had on the stage." Kara said, "Amazing we'll see you at the finals" while Paula rumbled on, "You set the bar so high I hope you are collecting frequent flyer." Simon made it clear to America that Adam needs to be voted in order to go to the finals. He said, "I want everyone to vote for you base on the fact you deserve to be there, not to assume."