The mother of Jonas Brothers says Joe Jonas was naughty when he was still a kid, passing out aspirin to the kids in the neighborhood and telling them it was candy.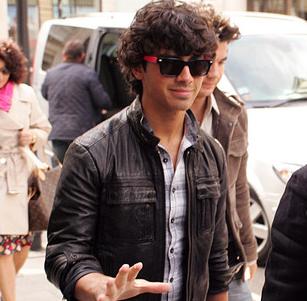 Considered as one of Hollywood's nowadays role models, Joe Jonas was a naughty kid back in his younger years. His mother is quoted by Star Magazine as revealing the middle of Jonas Brothers used to be a drug dealer for their neighbors' kids. However, it wasn't the forbidden drug that he gave away, but aspirin.
"Joseph found these pills and was passing them out to neighborhood kids. He said they were candy!" Joe's mother Denise Jonas recalls. And "the kids' moms were so upset" when they found out what Joe had done, she adds.
Joe Jonas, who was born Joseph Adam Jonas, currently is prepping for the release of Jonas Brothers' new album "Lines, Vines and Trying Times", which will be made available for purchase in stores worldwide on June 16. Most recently, Joe and his brothers, Kevin Jonas and Nick Jonas, were forced to cancel their scheduled shows in Mexico from mid May to the end of July due to H1N1 (swine) flu issue.
Comments
comments