Just three contestants remain on American Idol after Wednesday's elimination.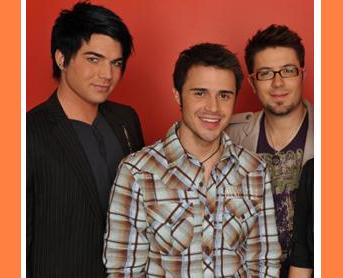 Idol is now officially heading to an all-male finale. Allison Iraheta, the 17-year-old phenomenon with a vocal strength that could topple frail trees, was voted off, leaving Adam Lambert, Danny Gokey and Kris Allen to be saluted with hometown parades.
What went wrong? Her performance of a Janis Joplin classic wasn't her best, but her duet with Adam had enough rock sizzle that Simon thought she might be safe. Danny, meanwhile, pleased no one with his cover of Aerosmith's "Dream On." Even his aunt, he admitted, had muted the television when he bungled the high notes.
Allison was often faulted for not showing enough confidence or fire as a stage personality, but there were always confidence and fire in her singing, weren't there? At any rate, the voting audience has always been ambivalent about her — perhaps because of her youth, her hair and her style, which has been compared to Kelly Clarkson's but is in fact much more raw.
A full 35 minutes were gone before Ryan Seacrest started the elimination procedure. (The order of names was random, he said — there was no bottom two announced.) The first to safety was a surprise: Kris cupped his hands over his face in shock and relief. His singing hasn't consistently wowed the judges — this week, in particular — but the fact remains that of all the contestants he photographs best in a close-up. These things matter. Then Adam joined him, and then Danny.
It seems inconceivable that Adam won't be in the final two. So who goes next — Kris or Danny?
The night's guest performers included No Doubt, former Idol contestant Chris Daughtry and none other than Paula Abdul. She and a chorus of male dancers ran through fog and red-fabric flames for her new single "I'm Just Here for the Music." At the end, one of the dancers, pretending to be paparazzi, shouted, "Will you be back for next season?" She did not answer.