Although Kiefer Sutherland is reportedly looking at only a minor assault charge for his alleged scuffle in New York this week, authorities in Los Angeles may come down even harder on him.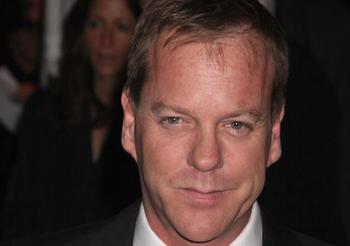 Sutherland, who's currently serving a five-year probation term in Los Angeles for his second DUI conviction, may have violated those terms, which clearly state the actor must "obey all laws."
"Our office intends to contact the NYPD and New York prosecutors to review the incident and determine whether Mr. Sutherland violated probation," L.A. City Attorney spokesman Frank Mateljan tells PEOPLE.
A probation violation often means a return to jail. Sutherland previously spent 48 days in jail on the conviction.
"If Sutherland's found in violation of probation for battery, and if he was intoxicated at the time, he could very well be sentenced to another 48 days or more," says Steve Sitkoff, an L.A. criminal defense attorney not involved with the case.
The 24 star, who allegedly headbutted a fashion designer at a party early Tuesday, will surrender to New York authorities to face a third-degree assault charge, the New York Daily News reports.
The actor will be issued a desk appearance for the misdemeanor, with no jail term and no restrictions on travel before his arraignment, reports the Daily News, citing a law enforcement source.