"Should I show her this?" one young woman wondered out loud to her friend, nodding at the item of clothing in her hand.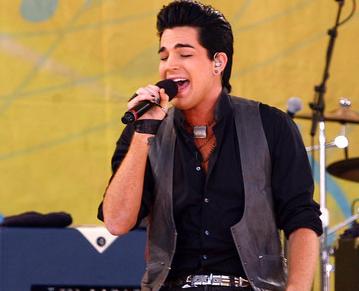 "No," her friend replied, shaking her head vigorously. "No."
And no, Leila Lambert probably wasn't interested in a white jockstrap with pink lettering on it, a tribute to her son Adam, the runner-up on the "American Idol" season that ended in May.
Losing the competition — to the tepid Kris Allen, who has most likely inspired no homespun jockstrap tributes — has done little to dilute the phenomenon of Mr. Lambert, as was clear at the Prudential Center here on Sunday night. This year's "American Idols Live!" tour, which features the Top 10 performers of Season 8 on Fox, could have easily passed for an Adam Lambert concert with nine supporting acts.
Mr. Lambert, perhaps the most currently visible openly gay American musician, received a thunderous reception from the audience, far louder than that for anyone else. His mother, seated in the audience, barely had a moment to herself between camera-wielding fans. He had the sharpest merchandise, including a David Bowie-esque black T-shirt with neon accents. And his fans were the most, um, creative, from personalized intimates to an L.C.D.-display belt buckle that scrolled "ADAM" ad nauseam to a sign, ringed with Christmas lights, that read "Adam electrifies my life!"
He didn't even have to use his superhuman voice, largely keeping it in check during his set, which inspired flying jockstraps and, yes, bras too. Wearing a distressed-leather ensemble, he instead concentrated on poses, every moment camera-ready: sinuous on Led Zeppelin's "Whole Lotta Love," pensive during "Mad World" (the Gary Jules version). During a medley of David Bowie songs he showed some skin, wearing a vest over a bare chest, and turned glam king, purring the lyrics, lost in a dance reverie.
Mr. Lambert has traveled almost the whole distance from overrehearsed and hammy to effortless and charming. And he's learned that vocally, less can be more: where his singing often felt gratuitously indulgent on the show, here he employed restraint, and effectively so.
So relaxed was Mr. Lambert that he practically ceded the night's musical high points to others. Anoop Desai was precise and devastating on "Always on My Mind" (though goofy on Bobby Brown's "My Prerogative"). The most muscular vocalist "Idol" has seen in some years, Danny Gokey, came alive on the Rascal Flatts songs "What Hurts the Most" and "My Wish," shouting the refrains like a melodic Henry Rollins.
Allison Iraheta, this season's most impressive female contestant, was appealingly messy, sounding but not looking far beyond her 17 years. And the typically dull Lil Rounds showed surprising flashes of personality on Beyoncé's "Single Ladies (Put a Ring on It)."
Scott MacIntyre performed a roaring duet of Billy Joel's "Tell Her About It" with Matt Giraud, whose lovely, facile voice, especially during his solo rendition of "Georgia on My Mind," was far more impressive live than on TV. (With crowd bias heavily in favor of Mr. Lambert, the bold individualist who wore a "Matt Giraud Is Bangin' " T-shirt deserves special commendation.)
Watching this show gave no indicators that, offstage, "Idol" has been in a bit of turmoil. This season's finale was one of the lowest-rated in the show's history. And last week Paula Abdul, one of the show's four judges and its lone source of nurturing, announced she would depart following a stalled contract negotiation. No replacement has been announced, and no one onstage mentioned her. Here, the only reminder of the show's potential vulnerability was its winner, Mr. Allen. As this season's champion, he headlines the concert — but that is no prize because each night he has to follow Mr. Lambert, a task for which he is ill prepared.
After Mr. Lambert's master class, the meek and limited Mr. Allen could do little but act as a palate cleanser, sending fans into the night with a few benign tunes: an edgeless version of Bill Withers's "Ain't No Sunshine," a scattered "Bright Lights" by Matchbox Twenty and a "Hey Jude" that would barely score change on a subway platform.
Last month Mr. Allen dropped from his set "No Boundaries," the widely maligned "Idol" victory song. But while it was insipid, it was also Mr. Allen's first single, the concert's only original number and its only literal reminder that there is life beyond "Idol." He replaced it with the Killers' "All These Things That I've Done," a tough and flamboyant song that he guilelessly massaged the lumps out of. Frankly, it begged for Mr. Lambert's firm touch.
"American Idols Live!" plays at the Nassau Coliseum in Uniondale, N.Y., on Tuesday and Wednesday;
Comments
comments