Angelina Jolie and Brad Pitt, who made headline with their split rumors, have got his and hers tattoos.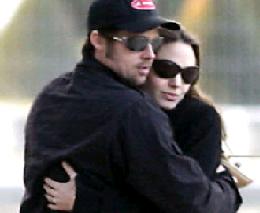 The celebrity couple reportedly got the new body art pieces done during a trip to Chicago this week. Rather than going to a parlor, Brad and Angelina were visited by a tattoo artist from the Chicago Tattooing Co. at their hotel. The artist is believed to have spent most of the day completing the work, and members of the couple's staff and security team are also thought to have had pieces done.
A source revealed, "An artist from the company slipped up to the 18th floor of the Peninsula Hotel. He spent the better part of a day needling Angelina and Brad, and some members of staff and security team."
Nick Coletta, the Chicago Tattooing Co. owner has refused to confirm whether or not the visit took place.
Angelina Jolie is known for her love of body art and the alleged new piece is believed to be her fourteenth tattoo.
Comments
comments