Angelina Jolie and Brad Pitt were spotted at Santa Barbara Film Festival in Santa Barbara, California on February 2.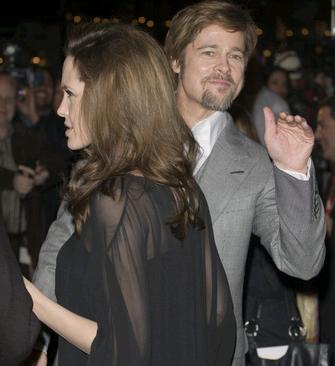 The actress is being honored at the festival with the Outstanding Performance of the Year award in recognition for her work in "A Mighty Heart".
Other honorees include Casey Affleck, Julie Christie, Tommy Lee Jones, Ryan Gosling, James McAvoy, Ellen Page and Amy Ryan.
Meanwhile, the "Good Shepherd" actress has sparked pregnancy speculations with another Brad Pitt's biological baby after the red carpet's billowing gown that the actress wore.
As insider claimed that Angelina came to Brad and said, "We did it!" According to the insider, "They were at home. Brad knew something was up that night because she was giving him "that special look". He later told her to spill it and let him know what was going on. She put her arms around his neck and told him again, "We did it!"
Another report claimed that expectant parents proved their relationship woes are well and truly behind them as they publicly paraded their love on the red carpet last week.
After their romance hit a rocky patch over constant arguments about adding to their young family, the celebrity couple put on a united front at the Screen Actors Guild Awards in LA after discovering that the 32-year-old actress is pregnant with twins.
The happy baby news helped ease the tension that had been brewing between them for months as the actress underwent several extremely stressful rounds of IVF treatment. Sources say the gorgeous actress was desperate to grant broody Brad his insatiable wish for another biological child.
Comments
comments