Angelina Jolie has finally set the record straight over those reports on infamous blood vial, twins' speculation and intimacy with Brad Pitt.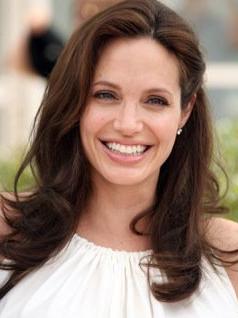 The "Tomb Raider" actress, who kept a vial of Billy Bob Thornton's blood around her neck during the couple's marriage, claimed the reports got it wrong.
She revealed, "It was never a vial anyway. It was like a flower press. It was like from a slight cut on your finger and you press your fingerprint in. It was kind of a sweet gesture. I thought it was kind of romantic!"
She continued, "I still love him dearly and think the world of him and I'm proud to have been his wife for a time," she said. "I don't believe in regrets. It's a dangerous habit to get into – it makes you pause in your life if you start thinking back and questioning yourself."
She added, "We weren't expecting twins! So it did shock us, and we jumped to six quickly. But we like a challenge. [Brad's] mom and dad are on standby to come out and help. And fortunately we can hire help if we need it, but we're going to try as we usually do to balance it as well as we can."
Another thing the Jolie-Pitts are balancing? Their sex life. When asked if twins were bad for their between-the-sheets action, Jolie said carrying twins has made things more interesting.
She also said, "I think it's quite the opposite. It's great for the sex life," she said. "It just makes you a lot more creative. So you have fun, and as a woman you're just so round and full."
Meanwhile, the "Tomb Raider" was spotted checking a window display of Corum watches at the Grand -Hôtel du Cap-Ferrat in the south of France. She said, "Brad is the hardest person to shop for. He has impeccable design taste. And whenever he sees something he likes, he buys it for himself."
She recently received a gun-charm necklace during her EW photo shoot. She also explained, "Mad, our 6-year-old, draws lots of war scenarios. 'He's all into war and guns. So for Mother's Day he drew a machine gun, and Brad had it made into a necklace, which is really sweet. It's really cute. I think it's really good!"
Comments
comments