Angelina Jolie and Brad Pitt teams up for another role as the celebrity pair will co-produce HBO series.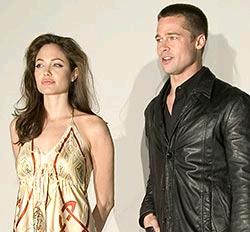 The series will focus on what it takes aide agencies to provide succor to the hungry and maimed in ravaged and strife torn parts of the world. It seems Angelina Jolie understood the subject and Brad Pitt understands the production.
The project is not unusual for the celebrity couple as the series are almost like a perfect fit for their skill sets. Importantly, it will also impart a professional dimension to their partnership in life.
Scott Burns will script the drama series that will chronicle the lives of aid workers who put themselves in danger to assist others. He will also be the executive co-producer along with Brangelina.
Angelina Jolie's is filming for "The Changeling" in Los Angeles and Brad Pitt's next film "State of Play" is set to roll on locations in Los Angeles in November.
Comments
comments