Angelina Jolie has recently admitted that she has slept with four guys but there are also reports that she and Brad Pitt are fighting over their sex life and still battling over Jennifer Aniston.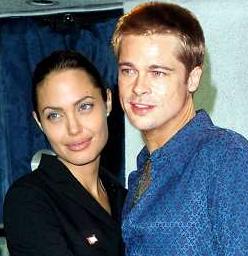 According to a report, Angelina blows up at Brad Pitt and their problems have now gone public.
Earlier reports pointed out that Brad Pitt still talk to Jennifer Aniston, which makes Angelina Jolie quite upset. She was reportedly so miffed and stressed out that it was taking a toll on their sex life.
It was also previously reported that throughout their two-and-a-half year romance, Brangelina has remained tight-lipped on exactly when and how their romance officially started, saying only that they waited until Brad had separated from Jen in January 2005.
A source claims the reason why the celebrity couple seems to have so much secrecy. The source revealed that the couple hired a crisis manager before Mr. & Mrs. Smith came out, and was told to never admit to an on-set affair, saying, "It would hurt their career. People would turn against Brad for cheating on Jen, America's Sweetheart. He and Angie won't even confess to kissing!"
When Jennifer Aniston was asked if she thought Brad had cheated, she replied, "At this point, I wouldn't be surprised." Now that Brad has spilled that he still is thinking of Jennifer Aniston how can this help his relationship with Angelina Jolie?"