An old boyfriend of Jennifer Aniston revealed that the actress was "boisterous, loud and boy crazy" at the age of 15 years old.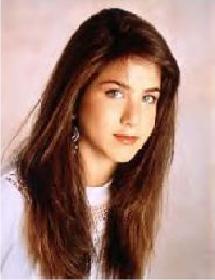 Michael Baroni, who met the actress at a party in the Big Apple when she was only 15, reveals what she was like as a kid in an interview, saying, "She looked like a Hollywood star even then. She wore her hair shorter, above her shoulders and styled like an old-fashioned movie star. She loved it like that. She was very boisterous and loud and enthusiastic about everything she did in life. She was the leader of the pack with her friends and she'd pursue a guy if she liked him. She was totally unabashed about shouting out, 'Oh look at that guy, he's cute!'"
The former boyfriend of the actress, now a Los Angeles lawyer, also revealed that like her Friends character, Jennifer Aniston was never without friends in her childhood. She had friends in the choir, drama group, basketball and volleyball teams at New York's LaGuardia Arts High School.
However, while she was very willing to make friends, Jennifer Aniston steered clear of relationships, and had only one serious boyfriend named Nick before she met Michael.
In fact, she once told Michael about an incident when she and Nick were kissing so enthusiastically that their braces locked together.
The teens were found by her mum Nancy, who took them to an emergency dentist who used pliers to disentangle the two. Jennifer, as Michael revealed, almost died of embarrassment.
Michael also revealed how he hooked up with the actress at the party in New York, after he spotted her going into the kitchen to get a drink, saying, "I followed her in and then shut the door behind me. I grabbed her by the shoulders, spun her round and kissed her. Luckily, I didn't get slapped."
When it was time to go home, Jennifer gave him her phone number in red lipstick on a scrap of paper, he added, "It was very sexy. She was physically mature and emotionally mature."
And though the two became close over that summer, they decided to call things off before it all got too serious, the former boyfriend revealed, "We were both getting a little uncomfortable with how we felt about one another. We both agreed that we were young and starting to feel serious about someone wasn't a good idea… probably."
Comments
comments