Angelina Jolie, 34, covers the July issue of Harper's Bazaar but don't look for an interview with the actress inside the issue because she isn't exactly interviewed for the piece.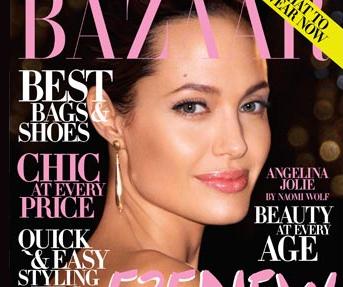 Instead, the magazine analyzes why the world goes ga-ga for Angie.
"Women both identify with her and desire her," writer Naomi Wolf hypothesizes as she explores Angelina's transformation from a wild child to Hollywood's most powerful celebrity, adding that it's "more than simply a physical response."
On Jolie's relationship with Pitt, Wolf writes, "She took for her own pleasure the male seen as the most desired of the tribe. Brad Pitt, who is always ranked at the top of indexes of male beauty and virility."
On the actress' six children, "Jolie revealed a new, and fairly radical, vision of single motherhood that made the relationship seem tender, glamorous, and complete," Wolf writes.
On Jolie's philanthropy, "Her intense work on behalf of stricken women and children worldwide solidified her status as an unconventional role model," Wolf writes, "and the rapid adoption of additional children turned the Jolie-Pitt story into one of family devotion and global idealism."
Jolie's pilot's license adds to her mystique, Wolf adds, "Flying a private plane is the classic metaphor for choosing your own direction. Usually, that is a guy thing to do, yet there was Jolie, with her aviator glasses on, taking flying lessons so she could blow the mind of her four-year-old son."
What's next for Jolie? "No way to tell," Wolf explains, "but I am certain, given the knack she has shown for tapping into this female collective unconscious, that we will watch with more than ordinary interest."
Comments
comments