Prince Harry partied until 4am with a British TV presenter.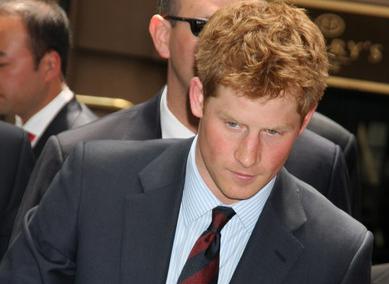 The 24-year-old royal – who split from his long-term girlfriend Chelsy Davy earlier this year – spent Saturday evening (06.06.09) at London's Troubadour nightclub with 'Gladiators' host Caroline Flack, before leaving with her in a car.
A source revealed: "It isn't surprising to see them together as they have a lot of mutual friends and are out on the same social scene when Harry is in London."
Another added: "Harry thinks she is cute and the feeling is mutual."
Harry and Natalie – who met at a poker night held by a mutual friend last April – left the club separately, with Harry getting into a car with his friend Mark Dyer.
However, just as the vehicle was about to depart, Natalie climbed in.
The car dropped Mike off at his London home, but Natalie and Harry continued to Clarence House, where Harry lives.
Neither Clarence House nor Caroline's spokesperson have commented.
Earlier this year, it was claimed Harry had been bombarding Caroline with sexy texts after meeting her at the card evening.
A source said at the time: "Caroline thinks Harry is really cute. And she was amused by the texts he has been sending her, asking how she was feeling after their alcohol-fueled night and joking about how rubbish they both were at playing poker."
The brunette beauty was also said to have told friends she felt "a little bit like Cinderella" – the fictional character who married a prince – since becoming close to the royal.
Meanwhile, Though prince Harry and Chelsy Davy split up five months ago after dating for five years. Since then, they have kept in regular contact by text and email, and shortly after they broke up they spent several nights trying to rekindle their romance. And seems that she still got feelings for the Prince.
Its been reported that 23-year-old Chelsy Davy is due to meet her ex-boyfriend Prince Harry at a party on Friday in aid of his Sentebale charity. and she told her close friends that she is looking forward to seeing the Prince. However, its also been reported that Chelsy is dating Dan Philipson now a days.
A Royal insider said: "Chelsy can't wait for the party as she knows Harry will be there. She is going with a group of girlfriends. Dan has not been invited and Chelsy is hoping to spend some quality time with Harry. It will be the first time they have caught up in a while."
A close friend of Chelsy said: "Chelsy has said Dan might be a rebound and she still cares a lot for Harry. She has confided that she wants him back but she gets the impression Harry has moved on."
Source added: "Dan has played things down and said it's not a serious relationship. Chelsy may be using him to make Harry realize what he's missing. They were very much in love so she's definitely not over him yet."
Comments
comments