Angelina Jolie reportedly walked out on Brad Pitt following a furious argument last weekend.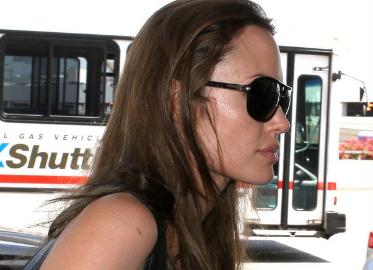 The Hollywood couple – who raise six children together – allegedly had a huge row following their twins Knox and Vivienne's first birthday party at their rented Los Angeles home last Sunday (21.07.09).
According to sources, the 34-year-old beauty stormed out of the bash after collapsing on the floor in floods of tears and booked into a room at a luxury Beverly Hills hotel.
A source told Britain's Grazia magazine: "Minutes after the argument, she got up, threw together a bag of clothes and ran to her car. She checked straight into a suite at the Raffles L'Ermitage hotel."
The actress has reportedly remained at the hotel – where her late mother Marcheline Bertrand stayed until her death in 2007 – and is refusing to speak to the 45-year-old actor.
The source explained: "Angelina is refusing to take Brad's calls – the only way he knew she was OK was because the nannies had seen her. They have been saying she's always thrilled to see the kids, who have been visiting two at a time."
Friends of the actress say Angelina is using her stay at the hotel to feel close to her mother, who lost her seven-year battle with ovarian cancer aged just 56.
One said: "Angelina stays in the room for hours on end. It's as if she's trying to feel Marcheline's spirit. She's lighting candles and thinking about her mother."
Meanwhile, Angelina Jolie was spotted with her oldest son Maddox, 7 as they catched a departing flight out of at LAX airport in Los Angeles on Tuesday afternoon (July 21).
Comments
comments