"My girlfriend is Laura O'Toole, and she was in 'Equus' with me," the "Harry Potter" leading actor has confirmed.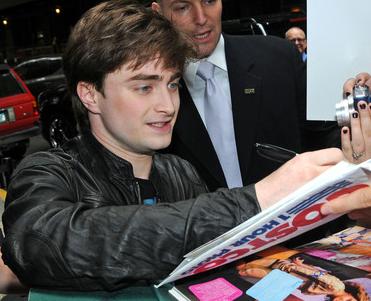 Always keeping his lips tightly sealed when he is asked about his love life, Daniel Radcliffe finally reveals his dating partner. "My girlfriend is Laura O'Toole, and she was in 'Equus' with me. But I don't really want to talk about that, because she's not here and it's not fair," the British actor tells U.K. OK! Magazine.
Daniel and Laura were co-stars in a revival of Peter Shaffer's 1973 play "Equus". Laura was known as the understudy for the lead female character of Jill, played by Joanna Christie, who engaged in a lengthy nude sex scene with Daniel's character Alan Strang.
Report that Daniel dating Laura, who is four years his senior, first emerged in November 2007 after they played together in the particular play. They were said to be "very close" and were even photographed enjoying a shopping trip together in Fullham, West London.
Back in January 2008, the "Harry Potter" leading actor was said splitting from Laura. Their separation reportedly took place in late 2007. News of the World quoted the female star as confirming, "Daniel and I are still good friends and have a good time when we see each other. But we just have to be realistic." However, Daniel has confirmed to OK! Magazine that he and Laura never parted ways.
Meanwhile, Daniel Radcliffe was interviewed by a Japanese girl, who won a Harry Potter contest to go to England, tour the Harry Potter set.
Kana interviews Daniel Radcliffe, asks to touch him, and gives him a stamp. The asking to touch is the funniest thing ever. Then she interviewed Rupert Grint and told him he smells amazing.
Comments
comments