Angelina Jolie didn't collapse on the New York City set of Salt despite widespread internet reports, according to a movie representative.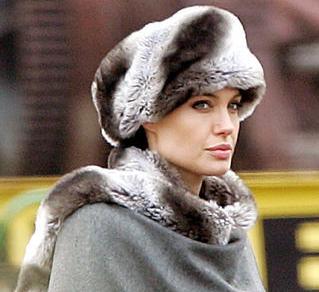 A representative from Sony, the studio behind the action-thriller, revealed: "I can confirm that those rumors are in fact not true!"
It was reported earlier this week that filming "got too much for Angelina. She collapsed between takes, complaining of shortness of breath and dizzy spells.
"To be fair, it was after she'd filmed a strenuous scene in which she ran around the set, but it was still shocking to see her crumble…there was something very wrong with her fitness levels if she couldn't handle a couple of action scenes," the magazine continued.
Meanwhile, Angelina Jolie rocked a fur-trimmed poncho and matching Russian hat as she continued filming her upcoming spy thriller Salt in Staten Island, New York, on Tuesday.
It is the latest look for the actress, who must wear a lot of disguises for her role as Evelyn A. Salt, a rogue CIA operative trying to clear her name.
"She's a character you never know," producer Lorenzo di Bonaventura recently told USA Today. "People who think they know the real her may or may not. Those who think they can tell whether she's in a disguise also may or may not … She tells you her agenda, but are you supposed to believe it?"
Comments
comments