Angelina Jolie confessed that she fell in love with Hollywood actor Brad Pitt while he was still married to Jennifer Aniston.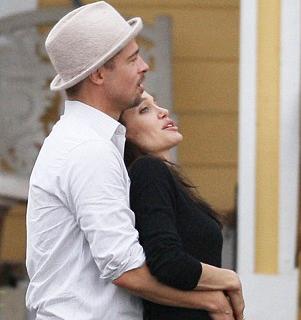 Hollywood's most glamorous couple have always insisted that they only fell for one another after Brad Pitt had split from the "Friends" beauty.
Now, Angelina Jolie admitted that they found love on the set of "Mr. and Mrs. Smith" in 2004, when rumors of romance first emerged – long before Brad's relationship with Jennifer ended
It's not clear if the admission was a bid for more openness or a slip-up during an interview in which she was jet-lagged.
The revelation came during an innocent aside that she is excited about her children being able to one-day see their mother and father in "Mr. And Mrs. Smith".
She revealed: "Not a lot of people get to see a movie where their parents fell in love."
It appeared that the "Tomb Raider" actress is not afraid of a public backlash, saying: "I live in a bit of a bubble when it comes to people's perceptions of me, which I'm sure is a very good thing, because I'm sure it's not always very nice."
The actress is more worried about the day their children are old enough to research their parents' backgrounds and will easily stumble across the good and the bad.
She admitted that she already worried about when Maddox, the oldest at seven, will 'look up my name and see some kind of sexy pictures or read a story about himself that isn't true.
She added: "There's a lot we're going to have to explain to them about how public their family is."
Comments
comments