John McCain may have apologized to David Letterman Thursday night, but the show's ratings are nothing to feel sorry about.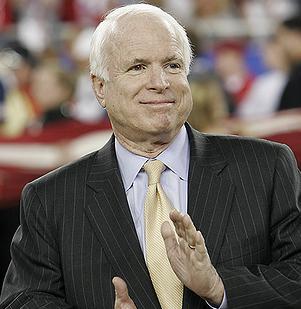 Nielsen Media Research says 6.5 million viewers tuned in for John MCain's raincheck appearance.
It was Letterman's biggest night since a December 2005 appearance by Oprah Winfrey, when she laid to rest long-standing rumors of a feud between them, and a boost of 73 percent over the show's average audience this season, according to the report.
John McCain's appearance was a make-up for Sept. 24, when he called Letterman an hour and a half before showtime and said he had to rush back to Washington to deal with the economic crisis.
During that night's show, Letterman ridiculed the GOP presidential nominee and showed him sitting for an interview in New York with Katie Couric instead of boarding a plane.
John McCain declared on Thursday night's show: "I screwed up. What can I say?"
Comments
comments