Angelina Jolie seems to have enough tattoos of her own, but that wasn't enough for her new role in the film "Wanted".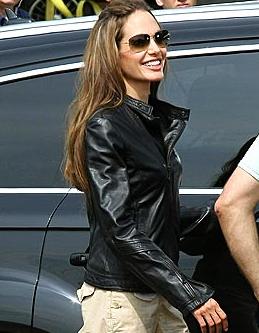 The "Good Shepherd" star, which played an assassin in the action film, had temporary ink added to the center of her back and arms for the racy part, which you could see it here.
Angelina Jolie, who is was reported to have a flight to Jordan, stars in the comic book adaptation alongside British actor James McAvoy, with the pair sharing a steamy love scene together.
The star currently has 13 known tattoos, including scribing of the longitudinal and latitudinal location of the birthplace of her four children, three of which were adopted.
On the same arm, she has had her "Billy Bob" tattoo, the name of her former husband Billy Bob Thornton, but she eventually lasered off the said tattoo.
She has a prayer written in Khmer as a tribute to her Cambodian son Maddox on her back, as well as the words "Know your rights" inked across the base of her neck.
The 32-year-old has welcomed the return to action films, saying, "It seemed like a good thing for me – and my family agreed – to have a reason to get strong and do something that was not serious."
Comments
comments