Nicole Kidman, who is only three months into her pregnancy, wanted to share her delight right now.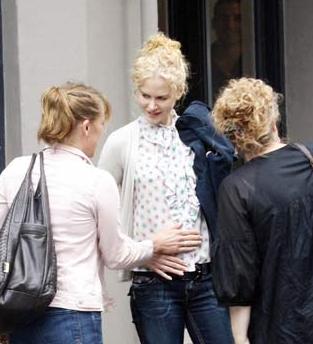 The "Golden Compass" star was spotted strolling along a Sydney street and was stopped repeatedly to show off her tiny bump to her companions.But the gender of her unborn baby is still a mystery, as she wanted to keep the important detail to herself.
On her website she would only say: "It's a secret" when asked by fans whether she was expecting a boy or a girl. Her baby, who is due in June, is her first with second husband, country singer Keith Urban.
The actress is in her home city after finishing work on her latest film, Australia, directed by Baz Lurhmann.
The actress and hr husband previously told their families at Christmas that they were expecting a baby.
The couple endured a rocky start to their marriage. Shortly after their wedding in Sydney in June 2006, Urban was admitted to rehab to deal with a drink problem.
Miss Kidman, who supported him during his battle, has spoken frankly of her desire for more children, saying, "I just want to have this child safely and happily and then we will see. Keith and I would really love to have a big family. But I'm so happy at the moment, I couldn't ask for anything more."